Powder Coating
Wheel Re-builds
General Machining
Alloy Welding
First designed by Rob North following a commission from the factory, the story is well documented but the current production is not so well known. The manufacturing rights have changed hands a few times up to this point, now owned by Les and Denise Whiston, the constant however is frame builder Mick Pearce who, it must be said, has built approximately 500 of these frames, each one he says is better than the last. Mick says "working with Les is great because I have free reign to make any improvements that I think are necessary, for instance we have had some old frames checked for true and found very slight misalignment. The jig has been duly adjusted and they are now bang on, this kind of detail has never been applied before".
The frames are nickel/bronze welded by hand (oxy/acetelyn) and are so neat most people who see them believe them to be machine made. Les, himself a gifted welder/fabricator, is building frames as well, under the guidance of Mick, who says "Les Whiston's frames are as good if not better than any built previously" which is a fine testament indeed.
The Rob North chassis was so far ahead of its time, it still has relevance today, it is extremely strong and very light being constructed of t45 aircraft quality tubing, it is far stronger than it needs to be and though primarily built for the Triumph/BSA Triples, it can be adapted to suit other applications as shown in pictures below.
Rob North Triples BSA A65 Frame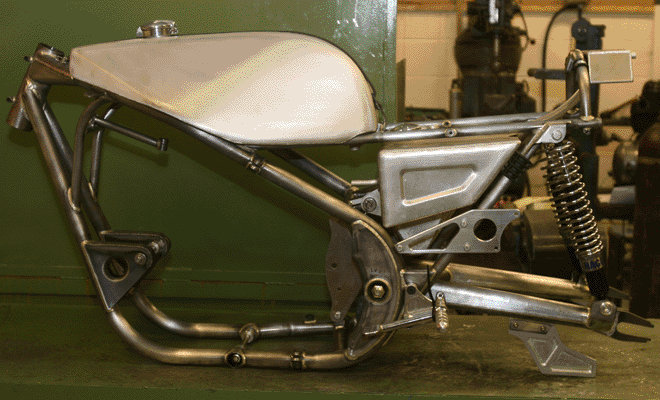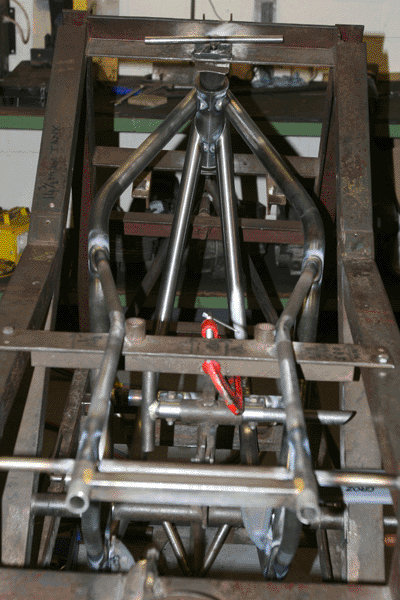 This is an interesting special order, built to a customers request, the frame will accept a BSA A65 Lightning engine.
It will be on show a the Stafford show in April 2008.
Our expertise with race frames has moved on a little and this rig will be road legal.